Blair/Mertens Duo perform Right at the Dead End on Third Continent and in Fourth Country!
Written on February 6th, 2019 by Zack Browning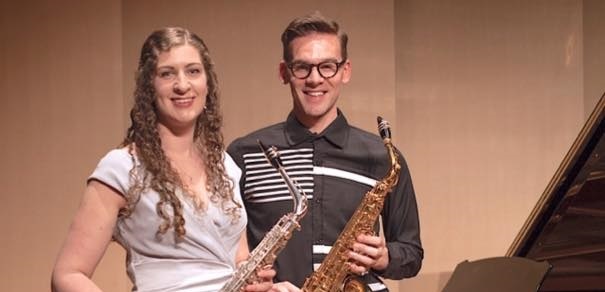 Gillian Blair and Nathan Mertens will give the American premiere of Right at the Dead End at the NASA Region 4 Conference at Stella Boyle Smith Concert Hall at the University of Arkansas on March 16, 2019. This marks the fourth country and third continent that they have performed the piece in since they gave the premiere on April 4, 2018 in Tokyo, Japan. Following that performance, the duo performed the piece in the UK at St. Olave's Church in London (07-04-18) and then at St. Helen Stonegate in York (07-06-18). On 07-12-18, the piece was performed again by the duo at the 18th World Saxophone Congress, Academy of Music Stančić Hall, Zagreb, Croatia. Many thanks to these superb musicians for championing this work!
Right at the Dead End for soprano saxophone, alto saxophone, and piano (2018) was commissioned by saxophonists Gillian Blair and Nathan Mertens. The composition travels through seven musical streets that dramatically climax at dead ends (cadences). The seven streets are: 1) Wall Street 2) Funky Broadway 3) Funky Bass Broadway 4) Nathan's Circle (based on Nathan's birth date using feng shui) 5) Groove Junction 6) Maximum Drive 7) Super Highway.